Choosing Outdoor Kitchen Cabinets
Metal cabinets give your outdoor kitchen projects the sleek, modern look that customers are demanding for their outdoor spaces especially when installing them on decks, rooftops or patios.
What to look for in outdoor kitchen cabinets
Metal cabinets offer a design alternative many customers are looking for when planning an outdoor kitchen. When you first think "outdoor kitchen" you might call to mind images of heavy, stone structures with stainless steel doors. Though those are beautiful and functional, metal outdoor cabinetry has significant advantages and looks gorgeous stylistically.
Not only do you have more options as to where to install your kitchen, but you may be able to take it with you if you decide to move, unlike stone kitchens which require you to pour a footing and take longer to install at an increased cost.
Not all metal cabinets are alike, here are some questions to ask about any outdoor kitchen cabinets before you order them:
Metal cabinets are durable for the outdoors, but aluminum offers many benefits over stainless steel including a significant cost savings. Beware of cabinets made to look like metal but are actually fiberglass.
Outdoor kitchen storage serves no purpose if water from rain or snow gets into the drawers or cabinets.
Masonry kitchens increase costs because they require a poured base and footing, which can be quite expensive and time-consuming especially in climates where the frost line is deep. Metal cabinets are more flexible, but check what surfaces your cabinets are ready for.
Metal cabinets allow for placement on a deck or rooftop, whereas masonry cabinets do not. Check on the specific arrangement for the cabinets you are considering.
Knowing how the cabinets arrive and what you will need to do to install them affects the timeline of your jobs.
Make sure your outdoor kitchen cabinets can support a stone countertop if that's what your customer prefers.
The ability to put cabinets in the center of a space frees up your design options.
It may be important to your customer to find cabinets made in America.
Make sure you know what your cabinets are covered for and for how long.
Some custom outdoor kitchen cabinets may require months of lead time to fulfill your order. If your project has a tighter deadline, be sure that your cabinets will arrive in time.
Some outdoor kitchen cabinets are only offered in specific pre-determined configurations that may not work with your customer's specific needs. Make sure that your cabinet manufacturer offers custom or modular options.
Aluminum vs. Stainless Steel
Stainless steel gets a lot of glory, but when it comes to outdoor kitchen cabinets, you might find that aluminum is actually your best bet. Aluminum as a metal is almost perfect for weatherproof cabinetry.
The number one reason?
Cost savings.
Aluminum cabinets cost almost 40% less than steel, yet have the same chic, stylish look. Who doesn't want to save money on an outdoor kitchen with the same weather-resistant features and aesthetic?
Outdoor Kitchen Cabinets: Perfect for Decks, Rooftops and Patios
Metal cabinetry is lighter weight and can be installed on rooftops, decks, patios and pool areas. Frequently the cabinets are modular, so cabinets can be brought up to rooftops and then attached to form a larger kitchen.
With no need to pour a cement base, these outdoor kitchen cabinet systems have more flexibility for locations. Cabinets often have optional accessories such as toe kicks to give the look of a built-in kitchen.
Apartment and condo complexes with communal rooftop or patio spaces are also popular locations to install outdoor kitchen cabinets, enhancing the shared living areas of these complexes.
Questions to ask your client
Get the conversation started with your customer by using our Outdoor Kitchen Planning Checklist worksheet to help you pin down their wants and needs for their outdoor kitchen cabinets. Once you've asked the right questions, selecting cabinets becomes easier.
Bring their answers to us and our in-house designers can get you a sketch and formal quote to finalize the deal.
Benefits of Challenger Cabinets
If you are looking for a sleek, elegant, modern look for your outdoor kitchen, there are many metal outdoor kitchen cabinet brands out there, but cabinets from Challenger offer some unique and important benefits:
Crafted from high-quality powder-coated aluminum

Cabinets won't warp or rot, even in direct sun or cold conditions.

Weather-resistant sealed doors and drawers

The only outdoor kitchen cabinets with standard weather-sealing to keep belongings protected from the elements.

Stainless Steel, Self-Leveling Legs

A snap to install on most flat surfaces including decks and rooftops. Finish with a color-matched toe kick for a built-in look.

Fully-assembled - Quick to Install

Cabinets come fully assembled (or with minimal assembly required). Just level cabinets and attach with 3/4" self-tapping screws. 

Aluminum, Steel or Stone Countertops Options

All products are available with our high-quality aluminum or stainless steel countertops or can be built to support any countertop material you source.

Finished Back Panel Standard

Essential for installing cabinets as a freestanding island, or on a deck where the back of the kitchen will be exposed.

Made in the USA

Built start to finish in the United States.

Limited Lifetime Warranty

Challenger Designs, LLC warrants to the original consumer purchaser, for as long as they own their cabinet, that products shall be free from defects in manufactured materials and workmanship under normal use.

Short Lead Times for Delivery

Custom cabinets ship in 6-8 weeks from Challenger, or use Fire Farm's in-stock cabinets and get your cabinets delivered in as little as two weeks.

Custom Cabinet Configurations

Challenger cabinets are modular to create thousands of custom configurations. 
Outdoor Kitchen Configurations
When designing an outdoor kitchen using metal outdoor kitchen cabinets from Challenger, our in-house team of kitchen designers have a lot of experience. We have designed thousands of kitchens, which means we know what works and what doesn't in kitchen design. When you bring us a client's wishes for an outdoor kitchen, we can help you seamless configure a kitchen using Challenger's cabinets.
Some of our tips include building in enough space on either side of the grill for cooking, thinking about functionality when planning the location of fridges or waste bins and making sure there's room to open doors and drawers within the kitchen. Choosing specific cabinets can also affect your budget. Our in-house design team can help you get the best kitchen for the best budget.
Our design process will make sure your customer is happy with their final kitchen and won't be left saying "why didn't I think of that?" when all is said and done.
We'll also work with you on installation challenges for decks and rooftops. We know our kitchen cabinets inside and out.
Download our Sample Kitchen Book with pricing, where we've priced out common kitchen configurations in a variety of sizes and shapes. Depending on what cabinets you choose, a bigger kitchen can be less expensive than a smaller one. We can help you meet both the specifications and the price point for your customer.
How soon can I get cabinets to my customer?
Introducing Fire Farm's In-Stock Cabinet Program: TWO WEEKS from approval to delivery
Many customers' first question is: how soon can I get my kitchen installed? Custom cabinets often cause a delay of weeks or even months when they are being produced on demand.
We know time is of the essence, so we chose the most commonly ordered outdoor kitchen cabinets in a selection of door styles and colors to keep in stock at our Monroe, Connecticut warehouse. (Watch our Rack System in action here.). If you choose from our stocked cabinets, you can get your kitchen base delivered in as little as two weeks.
Commonly ordered cabinets include grill bases (in 3 sizes), sink bases (2 sizes), waste bin cabinets (2 sizes), open shelves, triple drawer units and door/drawer cabinets.
We also stock a space-saving, cost effective corner unit to create L-shaped and U-shaped kitchens.
Get the 4-page guide for our In-Stock Cabinet Program to see the sizes and configurations of cabinets we stock.
How to select outdoor kitchen cabinets
Selecting the cabinets you need for your outdoor kitchen is a straightforward process with our system of component cabinets and storage cabinets from Challenger Designs.
Remember, if you choose cabinets from our In-Stock Cabinet Program, shown on the links below, we can get your cabinets to the site faster, but you can also order any of the thousands of cabinets and sizes Challenger stocks if you have a longer lead time.
We recommend figuring out what space constraints you might have, or what size kitchen you might want, then starting with what components you want to include.
Space constraints might include a porch pillar you need to work around, or edges of patios, dryer vents on your house, where your gas line is located. You can sketch out this space and then get started building your kitchen with Challenger cabinets.
Ask your customer what appliances they want to include and what sizes. This will narrow down which cabinets you will need and also help figure out your budget. 
Once you've determined what appliances your customer wants, fill out the space with storage. They may have a preference on how many drawers they want, or if they prefer cabinets with doors. Remember, drawers cost more money, so you can adjust your budget up or down depending on which cabinets you choose. Our in-house designer can also help you figure out how to save money using filler panels instead of cabinets.
We stock cabinets in certain door styles and color combinations, but we can order any color or style with a longer lead time.
We can order aluminum or stainless countertops from Challenger, or you may choose to install your own stone countertop. Each choice offers a different design aesthetic, but you can work with your customer's budget or tastes to get them a truly custom kitchen.
Start by choosing what you want to include in your kitchen such as a grill, side burner, refrigerator, sink or waste bin. Choose the outdoor kitchen cabinet that fits the component you would like to include. We stock 3 sizes of grill bases and 2 sizes for side burners, sinks and waste bins.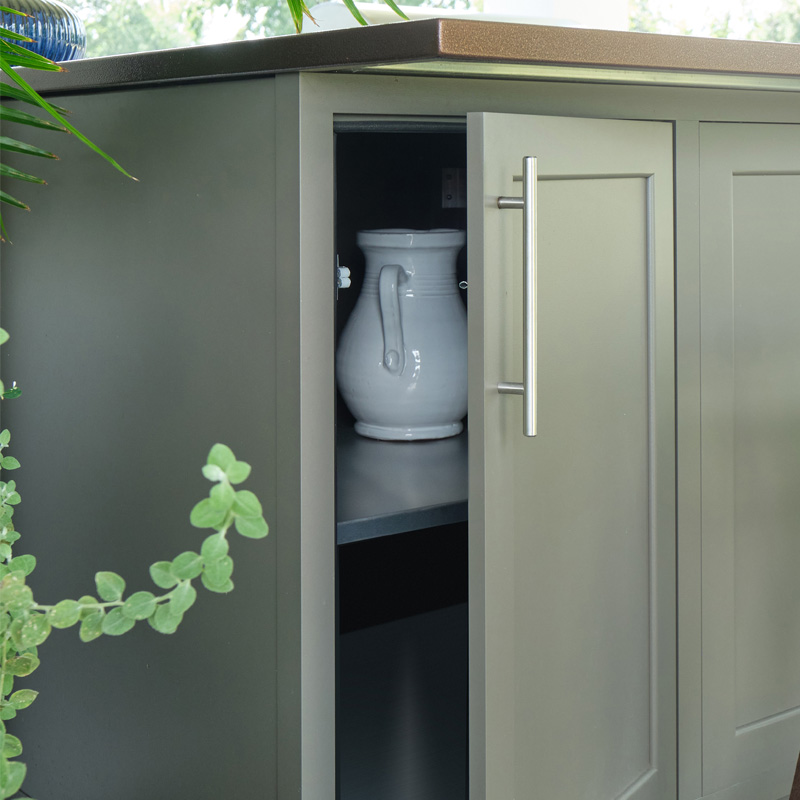 Once you have your components in place, look at how much space you have left (if you have constraints) and what kind of outdoor kitchen storage cabinets you want and how much counter space you would like to include. Do you want open shelves, drawers, or do you simply want an ample amount of counter space?
Challenger cabinets come with Pan doors, or you can upgrade to Shaker or Ribbed. Fire Farm stocks certain colors in certain doors. If you like something different, it becomes a fully custom order. Handles are black or stainless steel.
Challenger kitchen cabinets are powder-coated in a variety of color options. We stock cabinets in the most popular colors with specific door styles, but other colors can be ordered in a fully custom order.
Finish your outdoor kitchen with your own stone countertops, or order stainless steel or aluminum countertops from Challenger in a variety of colors. Either way your weatherproof metal outdoor kitchen cabinet bases give you a solid foundation for the kitchen you're looking for.
There are so many ways to customize Challenger outdoor kitchen cabinets: adding toe-kicks gives a finished, built-in look, while casters make kitchens of a certain size portable to move closer to the party! It's easy to customize a kitchen to meet your budget with cabinet choices while preserving all the features you want.
In-house designed countertops, backsplashes and raised bar tops
Color-matched toe kick kits
Casters (where applicable)
On-demand water system
Sink and faucet options
Corner cabinets for L- or U-shaped kitchens
Get a FREE Kitchen Sketch
Fire Farm's in-house designer will get you a sketch for your client so you can help them visualize how their outdoor kitchen cabinets will come together and get their sign-off.
If you have narrowed down your ideas, request more information or set up a meeting with our kitchen designer to get your kitchen sketch.
Included design features in Challenger outdoor kitchen cabinets
Low maintenance, powder coated metal cabinets turn an outdoor kitchen into an easy project. All Challenger kitchen cabinets come with great design features to make them even more homeowner friendly. The weatherproofed doors and drawers are a must! While the standard finished back panels on each kitchen make it easy to turn a kitchen into a bar or island.
Durable powder-coated aluminum cabinetry
Sealed weather-proof doors and drawers
Customizable designs
Full-extension drawers
Integrated finished back panels standard
Will not warp or rot
Cabinets arrive fully assembled
Easy to set up / install on most flat surfaces including decks and rooftops
Low maintenance
Limited lifetime warranty
Made in America
Watch installation videos
Challenger outdoor kitchen cabinets are easy to install. Each cabinet is made of lightweight materials so you can easily carry them to the right place on your job site.
Cabinets come pre-assembled, merely attach the stainless steel, self-leveling legs and move the door handles from inside the cabinets to the outside. Our in-stock cabinets are finished on all sides so you can adjust your configuration on the fly.
Attach cabinets using 3/4" self-tapping screws. Then add your own stone countertop or we can order an aluminum or stainless countertop direct from Challenger Designs.
Install back panels where refrigerators or other appliances go to create a freestanding island, then add toe kicks to give a finished, built-in look.
Ready to order? Get a quote.
Walk through your options for outdoor kitchen cabinets with our handy form. With this information we can get your customer the most accurate quote and get started on a kitchen sketch right away.
Finish off your outdoor kitchen with a Saber Grill
An outdoor kitchen isn't complete without a great grill.
Read our blog to find out why we chose Saber grills. Their patented infrared grilling system is truly something special — it's like having high-end steakhouse cooking in your own backyard!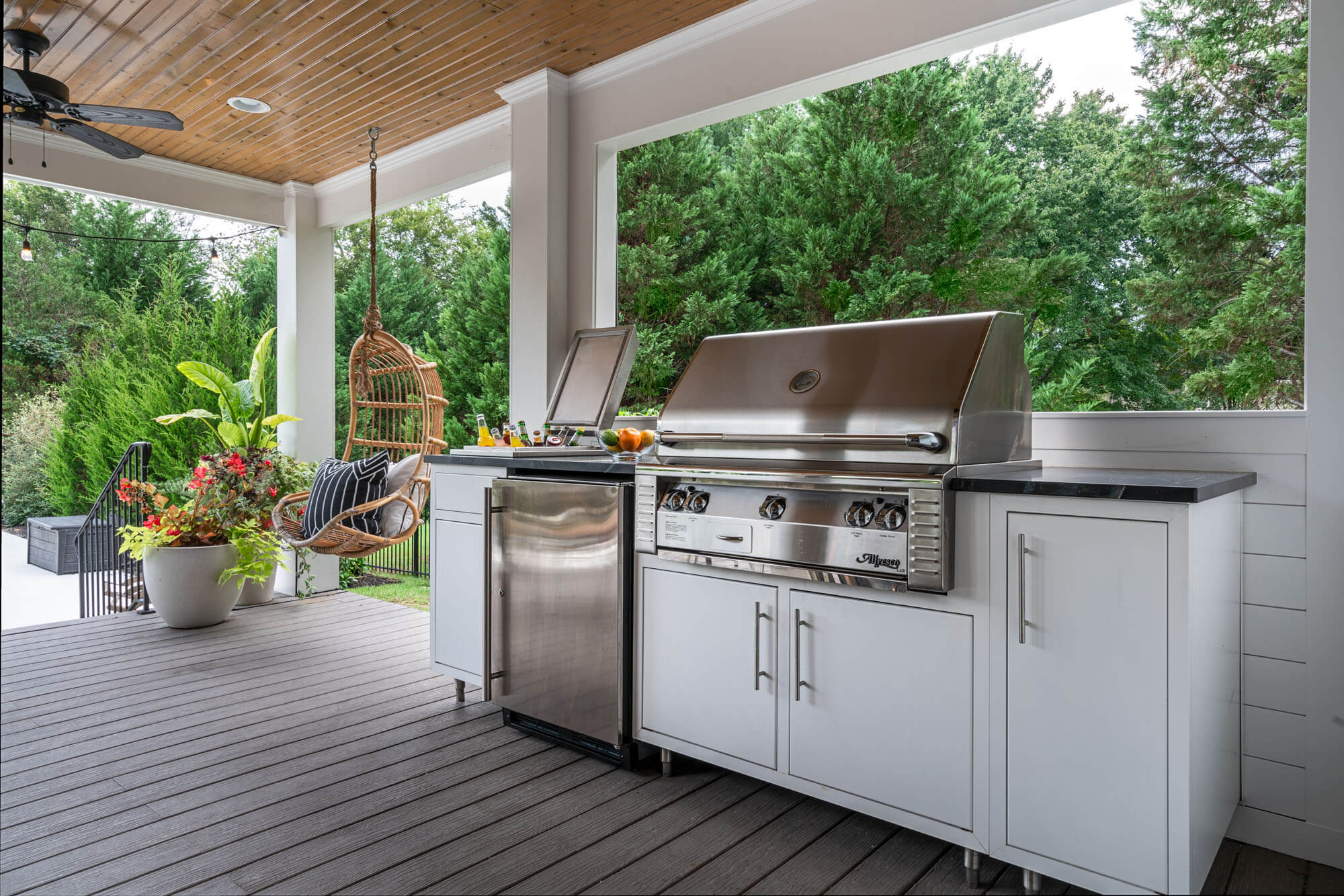 Custom layouts to fit your space