A professional quality stainless steel grill is one of the most important elements to consider when designing your outdoor living space...the main engine of your outdoor kitchen!
Stainless Steel Gas Grills
Fire Farm has teamed up with SunFire to offer you professional quality, stainless steel barbecue grills, burners and components, to help you complete your outdoor kitchen from start to finish. Our grills offer superior features, durability, and high performance at amazingly affordable prices.
Sunfire Stainless Steel Grill Specifications
Burner BTU

14,000 - Stainless Steel

Total BTU

57,000

71,000

85,000

Cooking Area (Sq In)

560

740

900

Weight

95

115

155

Rotisserie

Available Add On

Included

Included

Smoker Tray

Available

Heat Zone Separators

Intergrated

Exterior LED Lights

Interior Halogen Lights

Cut Out Dimensions

23 3/4″ W x 8 1/2″ H x 20 3/4" D

30 5/8″W x 8 1/2″H x 20 3/4″D

38″W x 8 1/2″H x 20 3/4″D
Locked-in Briquette System
304 Stainless Welded Burners
Alfresco Stainless Steel Grill Specifications
Burner BTU

27,500 -Titanium & Stainless Steel

Total BTU

75,000

106,000

106,000

106,000

130,000

Cooking Area (Sq In)

542

660

770

998

770 + Sear Zone

Weight

201

238

262

320

342

Rotisserie

Intergrated

Smoker Tray

Intergrated

Heat Zone Separators

Intergrated

Exterior LED Lights

Intergrated

Interior Halogen Lights

Intergrated
Alfresco's Exclusive Accufire™ Heat System
Optional Sear Zone For Infrared Cooking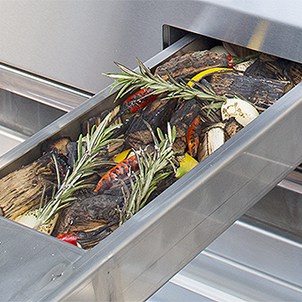 Signature Taste™ Integrated Smoking System
Electro-polished Stainless Steel Cooking Grates
Precision- Point™ Control Panel Lighting
Exclusive Safetouch™ Air- Cooled Control Panel
Adjustable Food Warming & Grilling Rack
Exclusive Durasleeve™ Heat-Protected Wiring
Refractive Ceramic 5-Way Heat Distributing Briquettes
Exclusive Hidden & Integrated Mega-Drive™ Rotisserie System
Exclusive EZ-Lift™ Hood-Assist System
Alfresco Free-Standing Grills
Alfresco 30 Inch Freestanding Grill Cart- Standard Series
Alfresco 42 Inch Freestanding Grill Cart - Standard Series
Alfresco 42 Inch Freestanding Grill Cart- Deluxe Series
Alfresco 42 Inch Freestanding Grill Cart- Refrigerated Series
Alfresco Luxury 56 Inch Freestanding Grill Cart- Standard
Alfresco Luxury 56 Inch Freestanding Grill Cart- Refrigerated Series
Alfresco Deluxe 56 Inch Freestanding Grill Cart- Standard Series
Alfresco Deluxe 56 Inch Freestanding Grill Cart- Refrigerated Series
Grilling season is upon us and we know that choosing the right grill for your needs can be both fun and overwhelming. There are many grills to choose from and multiple decisions to be made. Choosing isn't as simple as just coming home and saying "honey, I bought a grill." Here are a few tips…
Read the full article