One of our recent outdoor living spaces was unique in that it was not a backyard build, but instead a rooftop outdoor kitchen! We worked with the real estate partner of Audubon, luxury downtown studios in New Haven, Connecticut. The Audubon has over 250 units to choose from all unique with chef's kitchens, common spaces, co-working spaces and even outdoor living spaces. They approached us because they needed a solution to build rooftop outdoor kitchens, as the rooftop is essentially the backyard for residents. With traditional outdoor kitchens you need to pour the foundation, making it too heavy and cumbersome to build on a roof. However, our new system of ready-to-use, outdoor aluminum kitchen cabinets were the solution.
"We choose to use the Fire Farm's outdoor kitchen cabinets and grills because they offer the best combination of style, function and quality we look for in all our projects. We also appreciate the local presence and responsive customer service," comment Frank Caico, vice president of development at Spinnaker Real Estate Partners, LLC.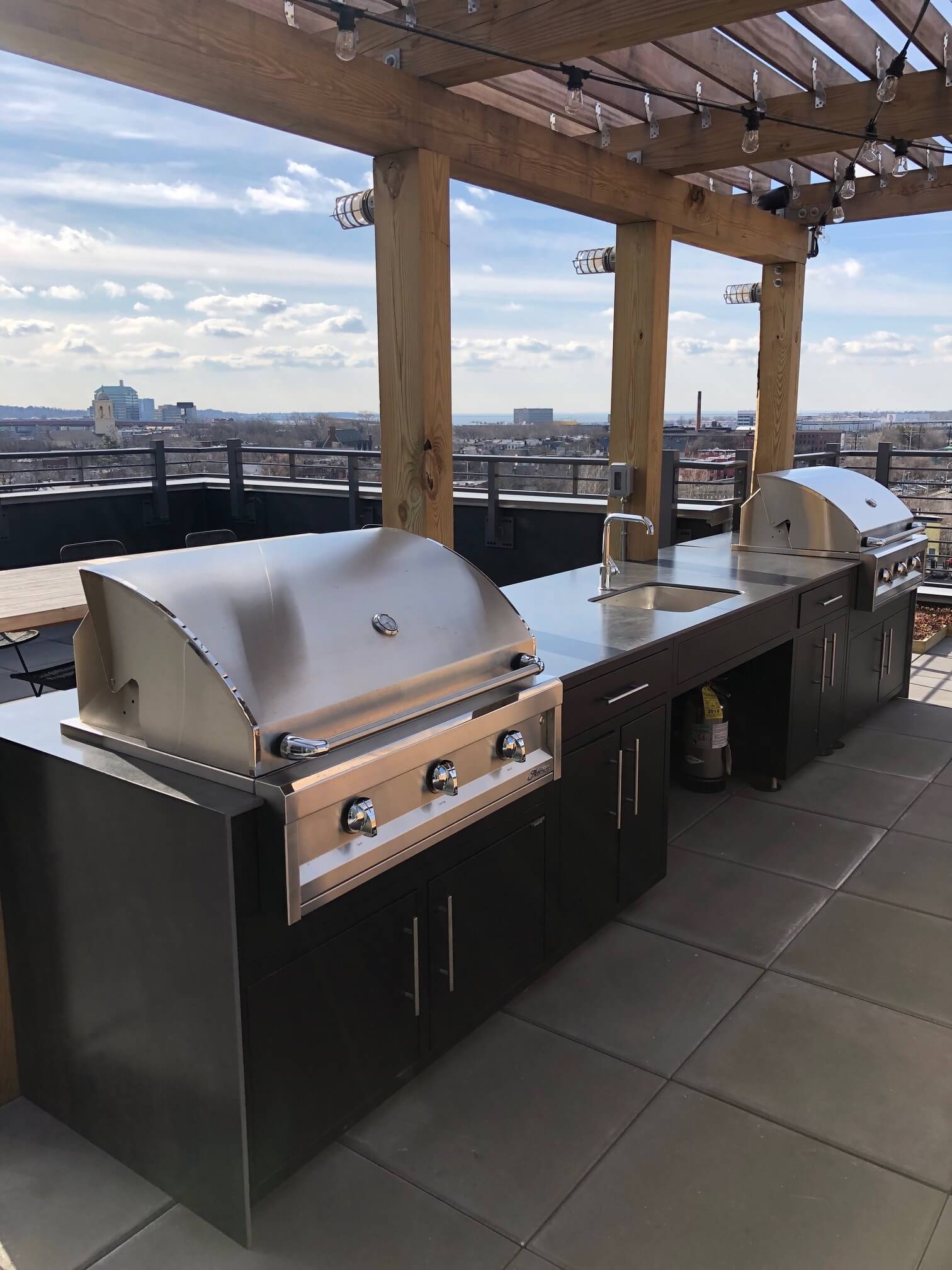 At the Fire Farm, we still love a traditional stone outdoor kitchen, but we also wanted to offer a solution that was more lightweight and portable for people wanting to cook and entertain on a patio, deck or rooftop. We partnered with Challenger Designs to offer these beautiful, and functional outdoor aluminum kitchen cabinets. They are perfect for smaller spaces.
Lightweight and Portable – these kitchens are lightweight enough to use on a deck, patio or rooftop. They can also serve as a portable outdoor kitchen island that you can move poolside in the summer and back to your deck in the winter.

Easy Assembly and Lower Cost – the Challenger interchangeable cabinets assemble in a matter of hours so you can go from unpackaging to grilling on the same day. With no foundation to pour or masonry finish work, the cost of an aluminum outdoor kitchen is much less than a masonry built kitchen.
Other examples of our aluminum outdoor kitchen cabinets are shown here.
Challenger also offers predesigned Coastal units for the speediest option, but we can customize a kitchen to meet your exact needs. Our in-house designer is ready to sketch your new outdoor kitchen. Simply give us a call and request a sketch and quote – 203.270.2900.