Outdoor Kitchen Cabinets - Finished Aluminum
The Fire Farm is now the Northeast Distributor for these ready-to-use finished aluminum outdoor kitchen cabinets by Challenger Designs. Although our history focused on Outdoor Kitchens finished with stone, the benefits of these modular units were too great to pass up!
The amazing benefits of owning an aluminum outdoor kitchen cabinet: 
Light Weight

- No need to pour a foundation in your backyard. These outdoor kitchen cabinets are perfect for your deck or rooftop.

Portable

- Want your outdoor kitchen by the pool during the summer, but on your deck in the winter?  No problem. These cabinets can serve as a portable outdoor kitchen island.

Assembly

- Use your kitchen within an hour of receiving it. Our 'predesigned' kits are ready to use after being un-packaged. Custom kitchens can also be assembled within hours of delivery.

Cost / Construction

- With less prep work, and less finish work, total price points for these kitchens are much less than a masonry built outdoor kitchen.

Customization - You have the ability to choose the size, layout and color of you outdoor kitchen cabinet to best complement your outdoor living space.
Pre-designed Outdoor Kitchen Configurations
The aluminum outdoor kitchen cabinets are pre-designed, so choosing these designs can save you money on your outdoor kitchen project. Our units in-stock unit fit our Sunfire line of grills (which is also a cut out for some other grills like Summerset, Bull and Blaze). 
What Color Suits You Best?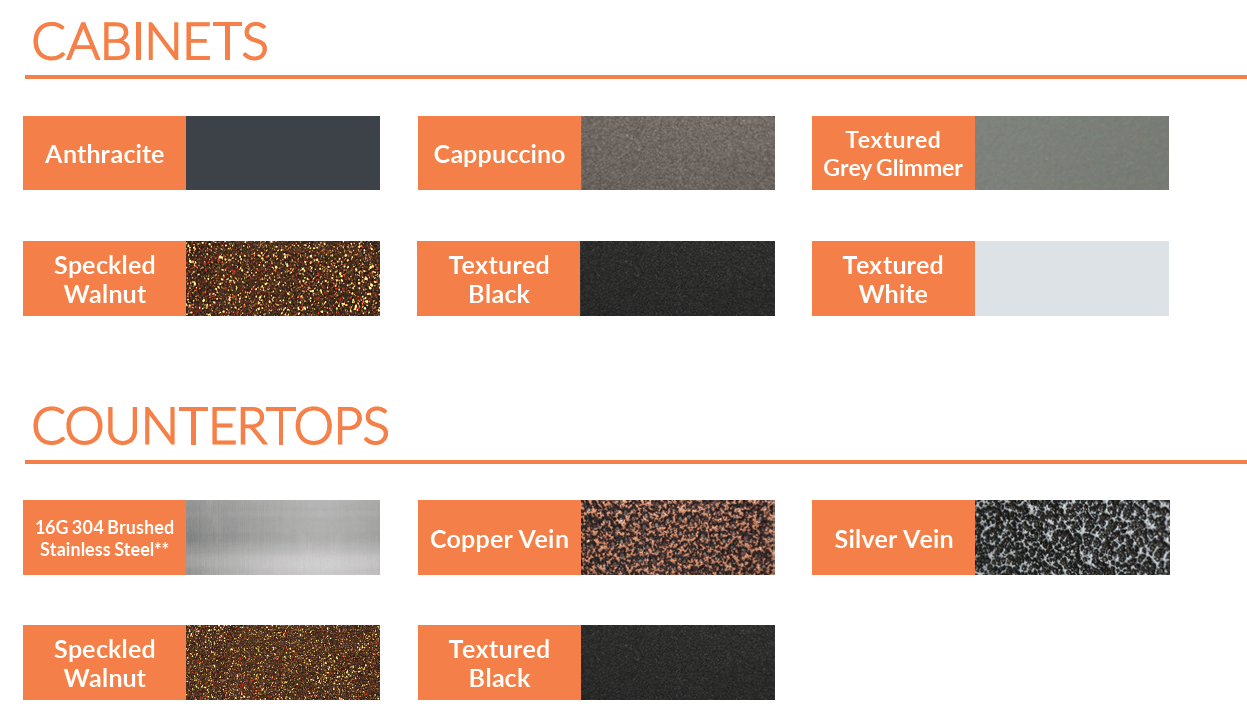 Customizable Outdoor Kitchens
Do not worry, there are a variety of Individual cabinets that can be put together to form your own custom Kitchen.  Send us a sketch, or give us a call, and the Fire Farm team will help your custom outdoor kitchen come to life! The following aluminum cabinets come in different widths, colors and can have cut-outs for your own stainless steel grills and outdoor refrigeration, allowing you to craft our own unique outdoor kitchen design.
The aluminium outdoor kitchen cabinets are perfect for your rooftop outdoor kitchen. Our cabinets can be packaged in individual boxes that can easily get us stairs or onto an elevator. In addition, the light weight of these aluminum cabinets, typically make it safe for any structural rooftop.  We have experience getting deliveries to challenging delivery spots like New York City, Brooklyn and Boston.