Our first question to our kitchen customers is "What style of outdoor kitchen are you looking for? Do you want traditional stone kitchesn or are you looking for the modern style with metal outdoor kitchen cabinets?" For years, traditional masonry outdoor kitchens have dominated the market, but recently metal kitchen have started making an appearance as people want to add an outdoor kitchen but want a sleeker, modern look. Each style of kitchen can be beautiful, and each has its own advantages.
Sleek, Modern Style Outdoor Kitchens
After helping contractors build masonry outdoor kitchens for years with our Stone Age kitchen panel & bracket system, we started getting asked about alternatives with a more contemporary, utilitarian look. Even though masonry kitchens can be veneered in many ways to suit different styles they tend toward the more traditional or rustic.
People were wanting what they were getting for their inside kitchens. The clean lines of stainless steel, the sheen of glass tile. They wanted more efficient storage. They wanted to put their kitchen on the deck, closer to the house, rather than pour a pad and make a patio further away. Contractors were looking for outdoor cabinets that were weatherproof, would stand up to the elements, that were lightweight and able to be installed on different surfaces while allowing them to install their own countertops.
Challenger Designs powder-coated aluminum outdoor kitchen cabinets answered many of these questions. This weatherproof outdoor cabinetry is made of materials to stand up to rain and snow. The outdoor kitchen cabinets have self-leveling legs allow them to be installed on most level surfaces without the expense of pouring an additional footing. Best of all? They look great. The different powder-coated colors allow for a range of options to match most houses, patios, decks and countertops.
You could either choose white for a clean, light look, or black for a dark, dramatic one. You could match the grey or beige tones of stone patio pavers, or contrast with a redwood deck. You could choose a stainless steel or aluminum countertop, or add stone to further personalize it. For smaller kitchens, customers could even put their kitchen on casters to move it from poolside to under an overhang as desired seasonally, or even take the kitchen with them if they moved.
Many metal cabinet makers offer pre-configured options, which limit designs, but Challenger allowed for infinite customization. Assemble cabinets in many configurations to make exactly the kitchen you want, whether it's an 8-foot straight kitchen with a grill and a bit of storage, or an elaborate U-shaped kitchen with several appliances, a sink and a bar top for seating.
Our contractors have been pleased with Challenger's options for outdoor kitchen cabinets and the results they've had creating outdoor kitchens with modern style.
Traditional Masonry Kitchens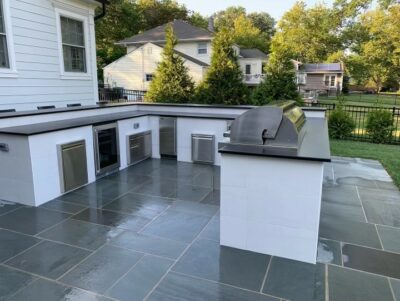 This is not to say that our contractors have stopped building masonry outdoor kitchens. These traditional stone kitchens still maintain their beauty and ability to fit in their environment. Stone kitchens have the option to build in a pizza oven or a fireplace, too, for a full outdoor living and cooking experience.
Stone Age's panel & bracket system took the guesswork out of building the base for these stone kitchens. After planning the kitchen and pouring the proper footing, the panels and brackets can be assembled in hours, rather than days, and veneered immediately, for as speedy of an outdoor kitchen as you can imagine. Sturdy and functional, these built-in kitchens will last a lifetime, and can be customized with any veneer you desire. Lately we've seen some kitchens using porcelain tile for a luxurious, elegant final look.
Choose Your Base to Suit Your Style
Whether you choose a traditional stone outdoor kitchen, or want the an outdoor kitchen with the modern style that metal outdoor kitchen cabinets gives, you can adjust your kitchen to fit both your needs and your budget. Learn more: return to our main outdoor kitchen cabinets page, here to learn more about cabinet options and how to get a quote.