Don't put your outdoor grill away just yet! Yes, the temperatures may be dropping along with the brightly covered leaves from the trees, but those hearty fall vegetables are at their peak! Grilling season is still going strong! The beautiful colors of sweet potatoes, brussel sprouts and squash are only a few harvest vegetables that you can experiment with. Take a look at the feast below and savor your grilling moments before the snow flies!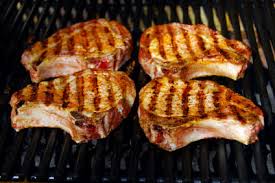 "Easy" Smoky Grilled Pork Chops (makes 4 servings)
1 tablespoon seasoned salt
1 teaspoon black pepper
1 tablespoon garlic powder
1 tablespoon onion powder
1 tablespoon ground paprika
2 teaspoons Worcestershire sauce
1 teaspoon liquid smoke flavoring
4 bone-in pork chops (1/2 to ¾ inch thick)
Preheat grill for medium heat, and lightly oil the grate.
In a bowl, mix together the seasoned salt, black pepper, garlic powder, onion powder, paprika, Worcestershire sauce, and smoke flavoring until thoroughly combined. Rinse pork chops, and sprinkle the wet chops on both sides with the spice mixture. With your hands, massage the spice rub into the meat; allow to stand for 10 minutes.
Grill the chops over indirect heat until no longer pink inside, about 12 minutes per side. An instant-read thermometer should read at least 145 degrees F (63 degrees C). Allow chops to stand for 10 more minutes before serving.
Medley of Grilled Harvest Vegetables
There are many ways to grill hearty vegetables. Keep 'em pure or add a little zip! I say zip it up! But, if you are a purest, and there is nothing wrong with that, get out your olive oil, salt and pepper.
1 tablespoon of paprika
1 tablespoon of cumin
1 tablespoon of chili powder
½ teaspoon of cayenne
2 large sweet potatoes, washed and scrubbed
1 pint of brussel sprouts, washed and flaky layers removed
1 butternut squash, washed and scrubbed
Preheat grill for high heat, and lightly oil the grate.
Mix the paprika, cumin, chili powder and cayenne in a bowl
Cut the potatoes and squash in quarters
Grill the potatoes and squash over indirect heat until they are tender (approx. 45 minutes)
Parboil the brussel sprouts and set aside
Place the vegetables on the high, direct heat and grill to desired crispness
Mix the selection of harvest vegetables in the seasoning and enjoy!
When you are thinking about adding to or upgrading your Outdoor Living space–we at Fire Farm would love to hear from you to get this simple design process rolling. We have teamed up with Summerset Professional Grills featuring Alturi outdoor kitchen products, comparable to the higher end grills on the market today.
Just ask for Lauren DiMartino, Outdoor Kitchen Designer and Grilling Guru!
Tel: 203-270-2900