Two important Topics here at Fire Farm are:
Grilling in the great outdoors!
Perfecting an authentic pizza pie!
We are certain at this point in the summer, you have all had your fair share of burgers, hot dogs and fish….let's shift our focus to something fresh! Who doesn't LOVE pizza?
To aid in the outdoor pizza grilling options, Fire Farm carries several different pizza ovens to choose from–something for every pizza lovers need!
The Mezzo and Amerigo pizza ovens range in size from 800 to 1,500 square inches of cooking surface. This means you can whip up two to three pizzas in just a matter of minutes, with these ovens getting up to 700 to 800 degrees–that's HOT!
The Ovencomplements any outdoor kitchen as it can be placed on a counter. Made out of #304 and #443 stainless steel construction, it produces up to 18,000 BTUs.
And now…onto the real business at hand–our pizza recipe!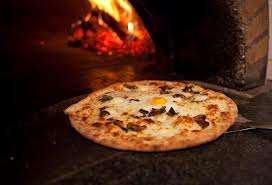 Take a look at this fresh and delicious Margherita pizza recipe I found from Emeril Lagasse.
Ingredients
1 cup crushed tomatoes
1 tablespoon extra-virgin olive oil
1/2 cup fresh basil leaves, coarsely chopped or julienned
1/2 cup freshly grated Parmigiano-Reggiano
1/2 pound mozzarella, sliced 1/4-inch thick
Basic pizza dough, rolled out for 2 (12-inch) pizzas, recipe follows

Basic pizza dough — by hand method:
1 package active dry yeast
1 cup warm water (110 degrees F)
2 1/2 to 3 cups flour plus more if necessary
1 1/2 teaspoons salt
1 1/2 tablespoons extra-virgin olive oil
Directions
Heat pizza oven to a temperature between 700-800 degrees.
In the bowl of a food processor, combine tomatoes, olive oil, and salt and freshly ground black pepper to taste and process until smooth. Divide sauce between the 2 pizzas and smooth to spread evenly, leaving a 1/2-inch border along the edges of the dough. Sprinkle basil leaves on top of sauce and then top with Parmigiano-Reggiano. Finally, divide mozzarella slices between 2 pizzas, and grill for approximately 2 minutes on average in your pizza oven, or until cheese is bubbling and the edges are golden brown.
Basic pizza dough — by hand method:
In a large bowl, combine yeast with water, olive oil, salt and stir well to proof. After 5 minutes, add half of the flour and mix well to thoroughly incorporate. Add all remaining flour except 1/2 cup and mix well with your hands. Transfer dough to a lightly floured work surface and knead dough for at least 5 and up to 7 minutes, adding enough additional flour as necessary to form a smooth and elastic dough. Dough should not be sticky. Transfer dough to a lightly oiled 2 or 3 quart bowl and turn to coat with oil. Cover with a damp towel and let rise in a warm place until doubled in size, usually at least 1 hour.
Divide dough into 2 portions (for 2 (12-inch) pizzas) and form into balls. Place on a lightly oiled baking sheet and cover with a damp towel. Let rest for 15 minutes, then transfer to a lightly floured surface, shape as desired and roll out to a thickness of 1/4-inch. Transfer dough to a pizza peel.
Yield: 2 (12-inch) pizzas, serving 4 to 6
************************************************************************
When you are thinking about adding or upgrading your Outdoor Living space–we at Fire Farm would love to hear from you to get this simple process rolling. We have teamed up with Summerset Professional Grills featuring The Oven, as well as with Stone Age, who carry two of our favorites pizza ovens, the Mezzo and Amerigo.
Should you decide to add one of these to your outdoor living space, give us a call and ask for either Lauren DiMartino or Katie Mayer who specializes in our pizza oven products.
Tel: 203-270-2900