Fire Farm is the Northeast Distributor of SunFire
Our Best Sellers
Although the grill is the \'heart\' of your outdoor kitchen - it\'s the accessories that make the functionality of your outdoor kitchen enjoyable.  Whether speaking to friends about an indoor kitchen, or looking back at outdoor kitchens we have designed, here are a few of our best sellers:
Cold Storage
The number one reason to add cold storage to your outdoor kitchen; it gives you the ability to stay outside, rather than walking back and for to the refrigerator. We break up these categories into \'refrigeration\' and \'ice\' - simply because electricity might not be an option for your kitchen whether it be budget or location.
Side Burners
Side Burners are a great asset to outdoor entertaining, allowing the entire cooking process to be completed outdoors, creating a one-stop cooking station! Why go inside, when you can saute your vegetables and boil your pasta while grilling? SunFire side burners offer all stainless steel construction, high BTU brass ring burners, heavy stainless steel grates, and lid.
Access Doors
When plumbing (as simple as propane tanks) is involved, you want access to the inside of your kitchen.  We have several sizes / styles to accommodate this.
Storage Drawers
If you think you\'ll be using your outdoor kitchen frequently, storage for your most used utensils are key.
Masonry Components
Masonry Components description - Masonry Components have a flange that allows accessories to align with thicker veneer. 
Fill out a form to get a quote:
Or give us a call at the Fire Farm: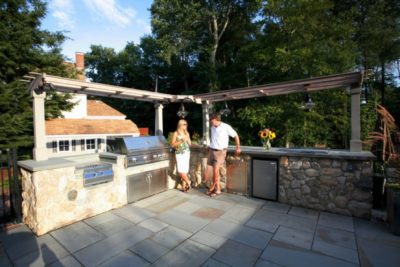 Looking to invest in an outdoor kitchen to entertain friends and family? The outdoor living areas that people are designing today not only add value to your home, and allow you to spend more time with your family and friends. When designed efficiently an outdoor kitchen will bring your entertaining to an entirely new level.…
Read the full article