Looking to invest in an outdoor kitchen to entertain friends and family? The outdoor living areas that people are designing today not only add value to your home, and allow you to spend more time with your family and friends. When designed efficiently an outdoor kitchen will bring your entertaining to an entirely new level.
Here are the basics of designing your outdoor kitchen:
A properly designed outdoor kitchen will allow you to socialize with your guests without running back and forth to your indoor kitchen. Consider the whole outdoor kitchen experience; entertaining, grilling and relaxing. A few quick tips:
Design your outdoor kitchen with stations in mind.

Think about the space you have and divide it among the Entertainment Station, the Cooking Station, and the Prep Station.

Shown within each station are some popular

Summerset

products.
Here is a basic check-list to designing your outdoor kitchen.
A Simple Sketch:

Provide us with a quick hand-drawn sketch, including the dimensions.

3D Rendering

: Our kitchen specialists will then transform your sketch into a 3D rendering. Many dealers offer a free 3-D diagram if you give them a sketch. It's hard to visualize with a simple overhead view.
Choose a cabinet layout:

Once you determine the dimensions of your outdoor kitchen, you can then 'tape out' on your floor (either outside, or in your basement if it's too cold), and 'walk' the area. Email us if we can help you with this: info@stonefarmliving.com, or go to our website for outdoor kitchen ideas.
Don't Forget the Prep Station

: Your prep station should be next to your cooking station so you can conveniently move your food to your grill. Use a sink to rinse off your vegetables, a trash drawer, and cutting board/chute to "chop and toss", and extra storage to store your utensils and platters. And, of course, an ice chest and fridge to keep your perishables nice and cold.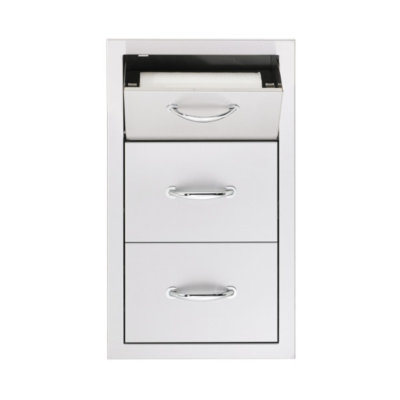 Choose Your Ideal Cooking Station

: The cooking station is the hub of the outdoor kitchen, and where the magic really happens. Spend the extra money on the grill and get the best your budget will allow. Whether you are entertaining 6 or 16 people, our

Summerset grills

can accommodate your crowd. The grills' heat zone separators allow you to cook with two zones for smaller parties or all four zones for larger groups. Don't forget about the side burners. The side burner allows you to easily finish your cooking outside. With the most efficient design, you will become a one-stop cooking station.
Select an Entertainment Station that is right for your needs: Having an entertainment station allows your guests to "help themselves" to the food and drink that you have prepared. Consider countertop overhangs for easy seating, barback and backsplashes for displaying food, and drink, as well as drink rests. Also consider chair location and access to foods "away" from the heat source.
Pick Your Veneer

: Work with your contractor or dealer to decide on the final veneering option as well as final installation details.
We hope this easy step by step has sparked your interest and imagination on how you can transform your own backyard this upcoming season! Additionally, we have our own in-house outdoor kitchen designer, Lauren DiMartino, who can help get you started and put your dreams on paper!