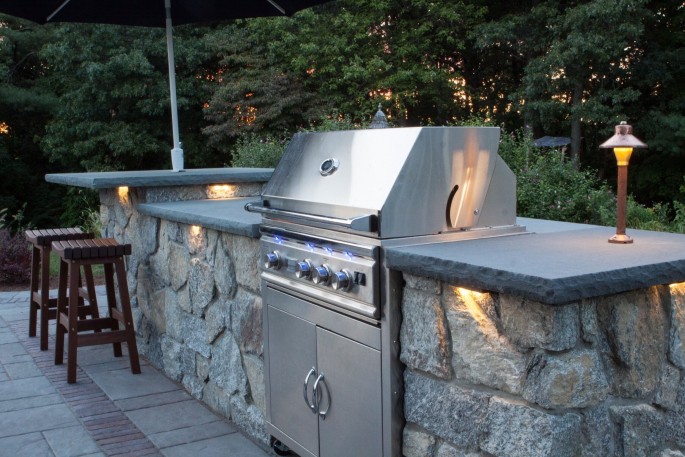 5 outdoor kitchen design steps to upgrade your back yard oasis.
Summer is fast approaching and many of you may be thinking about upgrading your backyard living space by adding an outdoor kitchen. Outdoor kitchens are the focal point of the party. They give people a place to rest and eat all the while still feeling part of the celebration. Follow these 5 Outdoor Kitchen Design Steps from FireFarm and your oasis will be the epicenter of everything. What's not to love about expanding your home's entertaining space and enjoying more time outdoors with family and friends. It may seem like a daunting task, but Stone Farm can make this a simple and enjoyable process.
Here are 5 outdoor kitchen design steps:
The process starts with a simple sketch…nothing fancy. Provide us with a quick hand drawn sketch, including the dimensions. Our kitchen specialist will then transform your sketch into a 3D rendering.
Decide between 2 cabinet options–1)cabinets custom made from perma-base or 2) a Stone Age cabinet system is made with concrete panels that require custom cutting on site.
Choose a cabinet layout and fill it with your favorite stainless options such as a commercial grill, refrigeration, trash drawer, and storage.
The grill of choice either a Saber or Alfresco will then be decided upon and inserted into the layout.
Work with your contractor or dealer to decide on the final veneering option as well as final installation details.
We hope this easy step by step has sparked your interest and imagination on how you can transform your own backyard this upcoming season! Additionally, we have our own in-house outdoor kitchen designer, who can help get you started and put your dreams on paper!
Tel: 203-270-2900