It's officially spring, which means it's time to fire up your outdoor grill and try a new bbq recipe! This will be the first in a series of delicious grilling recipes to come your way via the Grilling Team here at Fire Farm!
Who says grilling isn't healthy? Check out this delicious recipe I found in Cooking Light magazine. We chose this recipe with the Alturi grill in mind, as the built-in Smoker Box really enhances the flavor! If you are planning on buying, or have bought an Alturi grill, be sure to search out recipes like this so you can take advantage of it's extra features!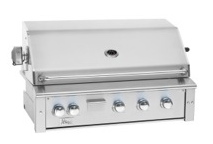 Coffee-Rubbed Texas-Style Brisket
This delicious Texas-style beef brisket features a coffee-based dry rub that adds deep, smoky flavor to the meat.
Yield: 18 servings (serving size: 3 ounces) Cooking Light AUGUST 2011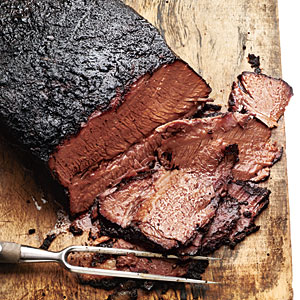 INGREDIENTS
6 cups oak or hickory wood chips
1 tablespoon ground coffee
1 tablespoon kosher salt
1 tablespoon dark brown sugar
2 teaspoons smoked paprika
2 teaspoons chile powder
1 teaspoon onion powder
1 teaspoon garlic powder
1 teaspoon ground cumin
1 teaspoon freshly ground black pepper
1 (4 1/2-pound) flat-cut brisket (about 3 inches thick)
Hands on: 1 Hour Total cook time: 7 Hours, 15 minutes
Preparation
1. Soak the wood chips in water at least 1 hour; drain.
2. Combine coffee and the next 8 ingredients in a bowl. Pat brisket dry; rub with coffee mixture.
3. Remove grill rack, and set aside. Prepare grill for indirect grilling, heating one side to high and leaving one side with no heat. Add smoker chips to the dedicated Alturi Smoker Box, or consider purchasing a Plug In Smoker Box from your dealer, if it is not standard on your grill. Maintain temperature at 225°. Place grill rack on grill. Place the brisket in a small roasting pan, and place pan on grill rack on unheated side. Close lid; cook for 6 hours or until a meat thermometer registers 195°. Add 1 1/2 cups wood chips every hour for first 4 hours; cover pan with foil for remaining 2 hours. Remove from grill. Let stand, covered, 30 minutes.
4. Unwrap brisket, reserving juices; trim and discard fat. Place a large zip-top plastic bag inside a 4-cup glass measure. Pour juices through a sieve into bag; discard solids. Let drippings stand for 10 minutes (fat will rise to the top). Seal bag; carefully snip off 1 bottom corner of bag. Drain drippings into a bowl, stopping before fat reaches opening; discard fat. Cut brisket across grain into thin slices; serve with juices and enjoy!
*********************
Now a few words about the Alturi Grill – It is a luxurious grill with all the bells and whistles one could ever need. The grill is constructed with #304 stainless steel and high BTU red brass burners- the best on the market. Add to this, LED front panel lighting and interior lighting, along with 100k BTUs, and cooking space of 1,000 sq. in. All you need to really do is throw in a few handfuls of smoker chips to the Smoker Tray and you are ready to grill!
When you are thinking about adding to or upgrading your Outdoor Living space–we at Fire Farm would love to hear from you to get this simple design process rolling! Just ask for Lauren Dimartino, Outdoor Kitchen Designer.
Tel: 877-977-0004