As pictures are finally starting to roll in from around the Mid Atlantic and Northeast of some finished projects using our Outdoor fireplace Kits, we thought we would start sharing by state! Here are some great masonry outdoor fireplaces from Pennsylvania that we loved!
Outdoor Living Space – Ambler, Pennsylvania
The homeowners wanted a backyard environment with outdoor lighting and a simple design. They wanted an outdoor fireplace with a pavilion for weather protection and sitting walls for additional space. They chose our Standard Outdoor Fireplace Kit that could be quickly build and ready for their contractor to veneer as they wanted speedy construction so they could utilize their new space quickly. Additionally, the Henry Coventry stone patio with a sailor border, finalized the space.
Outdoor Living Space 2 – Lansdale, Pennsylvania
Similarly, these homeowners wanted their outdoor space built quickly so that they could utilize it. They wanted a simple design that also included a television for entertainment. The relied on our 36" Standard Outdoor Fireplace kit that was custom blocked out to accommodate a 50 inch TV. A pavilion was built with a cut out for the chimney recessed into the structure and the TV was mounted to a beam centered in front of the fireplace.
Outdoor Living Space 3 – Horsham, Pennsylvania
A more complex project, the homeowners wanted a pavilion, an outdoor fireplace with a chimney to accommodate a TV, an outdoor kitchen as well as a patio with sitting walls. Those chose our 36″ Contractor Arched Outdoor Fireplace Kit with Wood Storage Boxes, and a custom chimney to accommodate TV. 3 – Pavilion, Outdoor Kitchen & Fireplace and New Patio area with sitting wall. The Contractor Outdoor Fireplace Kit is one that is often chosen by contractors as it is nice for customizing the structure and in this case, allowed the builder to block out the bottom half for the tv, and then taper in again to a thinner portion of the chimney which cleared the roof. The Outdoor Kitchen includes similar veneer, sink, kegerator and built in grill.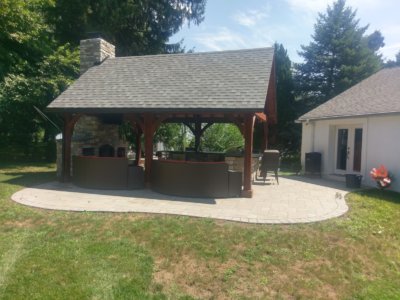 Looking to create your ideal outdoor living space? Look no further than The Fire Farm. We've got you covered! Learn more at www.thefirefarm.com or call us at 203.270.2900.