As you look to create an outdoor living space, you may not know which outdoor fire feature will work best for your entertaining purposes. An outdoor fire pit is a centerpiece of an outdoor living space where people can gather around the fire, share stories, and roast marshmallows. Whereas, an outdoor fireplace creates a beautiful focal point in your outdoor living space adding warmth, depth and a sense of boundary, much like a wall would.
Which Fire Feature is Best For You?
Here are a few tips to help you decide which outdoor fire feature is best for you.
1. Cost – The main reason people chose between an outdoor firepit or outdoor fireplace, is the cost. This is due to the difference in the amount of skill, and materials needed.
2. Space Needed – Although an outdoor fireplace is typically bigger, you may need more space for a fire pit. This is due to the fact that it is nice to create of an outdoor living space around the firepit with chairs and other outdoor entertaining features.
3. Heat – An outdoor fireplace does not radiate a ton of heat, it is usually a showpiece or focal point of a landscape.
Wood burning or gas burning?
1. Ease of use – after a long day of work, it is nice to be able to start a fire simply by hitting a switch.
2. Clean up – there is none (except when Marshmallow drips on the glass or lava rock)!
Why wood burning?
People usually go with wood burning for two reasons:
1. They love burning wood! The sound, the smell, the warm feeling, and the price! Some gas pits can increase the price.
2. In many parts of the country, natural gas might not be available, or too expensive to pipe to your fire feature. Some firepits will run on a propane tank, but if there is nowhere to hide it, it might take away from the look you want.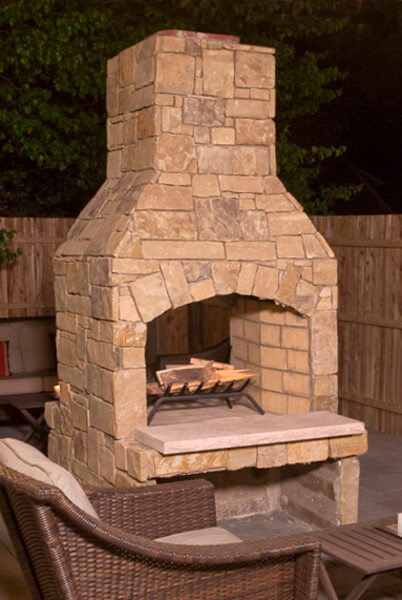 Once you decide on wood or gas, the next step is designing the look you want to achieve. One of the main factors that people consider is how the outdoor fire feature will fit into their current backyard. On a 'formal patio', using an outdoor fire pit kit, with thin veneer might be perfect. Whereas if you'd like to create a focal point that also serves as a boundary to your backyard, an outdoor fireplace is probably your best bet.
Check out additional design ideas and information on our fire pit and outdoor fireplace pages.